Safety Specification
International Standards
1. Certified to European CE (SBP, S1, S1P, S3, etc.), Malaysian SIRIM MS 1599:1998 and Singapore SS 513 Safety Standards.
2. Made with steel / Fibreglass toe cap, and steel / fabric midsole (optional) which conforms to EN ISO 20345 Safety standards.
3. Manufactured under stringent quality control systems certified to ISO 9001 standard.
Size Chart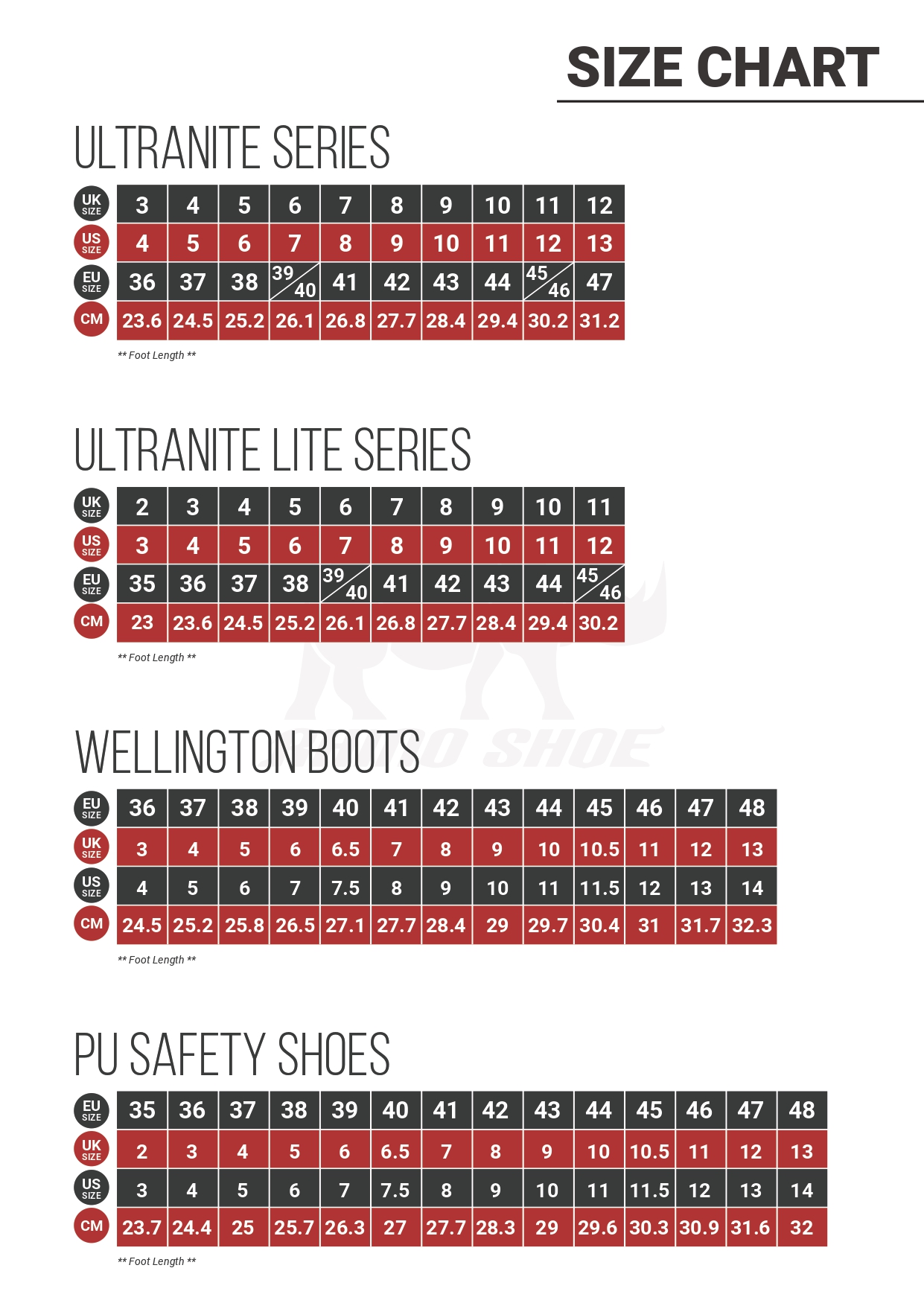 WIDE
TOE
CAP
Compare our safety shoes and others safety shoes :
Other Safety Shoe
RHINO SHOE
With Wide Toe Cap
European CE Standards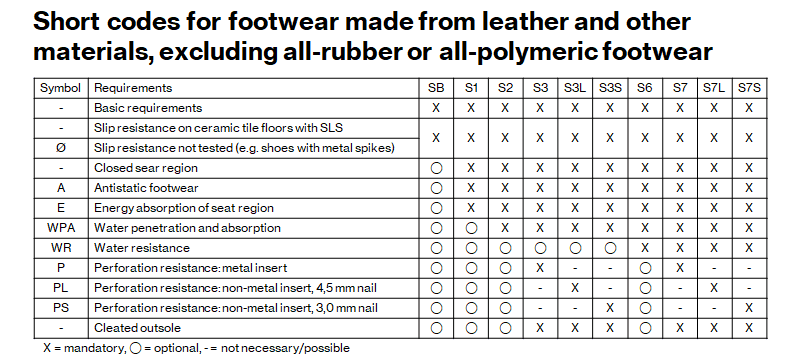 Steel Toe Cap
Toe Cap is used to protect our toes from the falling of heavy objects. It is one important feature in every kind of safety shoes. Steel Toe Cap offers premium protection for your toes. It can resist drop force of 200 joules and is suitable to use in wide range of industrial, construction and all general purpose workplace. Fibreglass Toe Cap
Fibreglass Toe Cap is virtually free of metal components, therefore you can move through security environment without any hassle. It is lighther when comparing to steel toe cap and will be more flexible. As a non-metal, it will not rust and will not transmit electricity. It can resist drop force of 200 joules as well.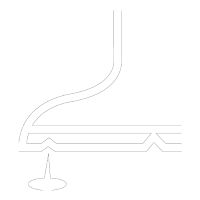 Anti-Penetration Midsole
In order to have extra protection, midsole is added in some of the safety shoes to reduce the risk of sharp objects penetrating through the sole. RHINO SHOE have two different types of midsole which are Steel Midsole and Anti-Penetration Fabric Midsole. These midsoles will be used in most of the industrial or construction workplace as penetration resistant feature is highly regarded. Premium Quality Leather
By using high quality upper materials, it makes RHINO SHOE comfortable and durable. Every step in choosing the materials are being checked strictly before started producing it. By combining good materials with fully equipped manufacturing facilities incorporated with the latest shoe making technology, we can ensure that our safety shoes are durable and comfortable to be used in different working environment. Oil Resistant
Oil Resistant feature is specially designed to protect the soles from damaged caused by oil and other fuels. The special material used in the outsole enables you to move freely on your job without worrying that your shoes will deteriorate due to high exposure to hydrocarbons. Chemical Resistant Outsole
The special material used in these safety shoes' outsoles can help to resist common acid and alkali. It enables you to work freely without worrying that your shoes will be corroded after walking on a place which is highly exposed to acid and alkali. Heat Resistant
The heat resistant of safety shoes will protect you for small period of time where you are exposed to direct heat that exceeds or meets certain temperature. RHINO SHOE with Nitrile Rubber outsole can withstand heat temperature up to 300°C. Anti-Slip Outsole
Anti-slip outsole will help to reduce slips, trips and falls. The shape and pattern of RHINO SHOE outsole were specially design to increase grip on wet or oily floors. Therefore with this specially design outsole, it can help to let users to walk freely and with better balance while moving. Antistatic
The antistatic feature in safety shoes is designed to reduce the build up of excess static electricity by conducting body charge to the ground. This is essential to eliminate the risk posed by sparks igniting flammable substances or vapours. Electrostatic Discharge (ESD)
ESD is the sudden flow of electricity between two electrical charged objects caused by contact, electrical short or dielectric breakdown. It can be caused by tribocharging or electrical induction. Therefore, ESD feature in safety shoes is important to protect sensitive equipment from damage and reduce the danger of ignition or explosion of hazardous materials caused by the build up and release of static electricity.